HIGH QUALITY VERA PLAYA NATURIST APARTMENT AVAILABLE FOR RENT
Are you looking for a naturist holiday in Spain? We are delighted to offer for rent this high quality naturist apartment in beautiful La Menara, part of the Vera Playa naturist area. The apartment has been modernised with dining furniture, patio furniture, kitchen equipment, 32inch television, DVD player and free WiFi. The apartment has two good sized bedrooms, a large bathroom and spacious living area. The total area is 72 square metres plus two terraces. The La Menara complex is naturist with beautiful gardens and swimming pool. La Menara is one of six naturist complexes that form the Vera Playa naturist area in Spain. Just a two minute walk from the apartment (and yes, the walk is through the naturist area) is a beautiful beach. For rentals longer than 3 weeks drop us a line for a special quotation.
Click HERE to have a guided tour of the apartment and locality.
For all enquiries please write to: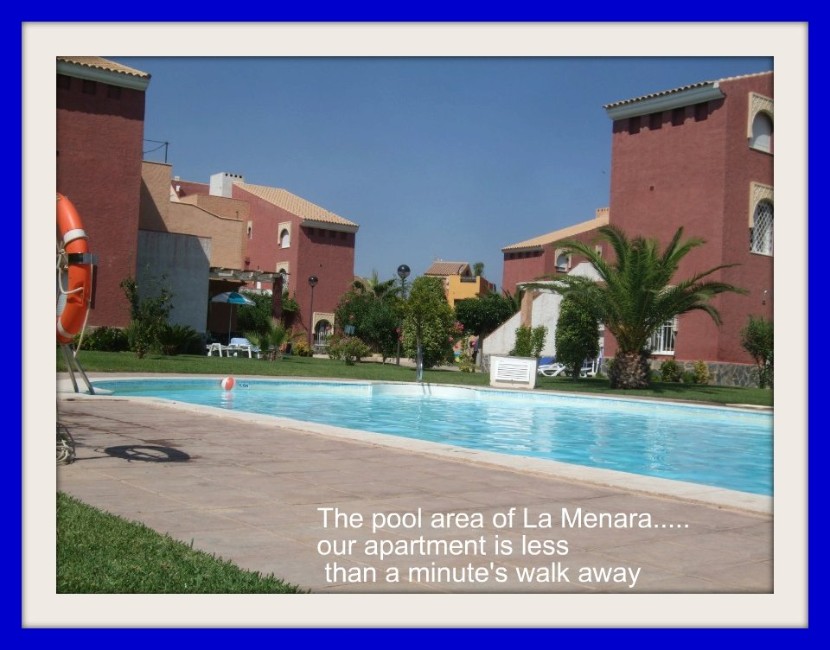 LATEST NEWS
In 2016 owners of rental properties in Spain were required to register with the authorities and show that they met certain standards. Our property is registered and complies with the licensing authorities. Our registration number is:
VFT/AL/00121
We have replaced the two single beds in Spring 2016 with a King Sized bed.
Free internet access (wifi) if you bring a laptop, tablet or mobile. From Spring 2016 this has been independent of the community wifi system ensuring better and more reliable access.
From 2016 we have new chairs and table on the back terrace.
Our sound system includes Internet radio so you can listen to UK and world wide radio stations. There are several thousand music tracks you can play.
Air Conditioning in both bedrooms and lounge
Original and attractive oil paintings in every room
Why we bought here.
In the last thirty years we have visited naturist places all around the world.... including France, Spain, Croatia, Holland, New Zealand, Mexico, Britain, USA and Australia. We decided that we wanted our own place and Vera in Spain seemed to be the natural choice. It's warmer than Southern France throughout the year (even in December the average daily maximum is 17c) and is only a few hours from the UK by air. On visiting Vera for the first time we were shown around the various complexes and looked at many apartments. None came close to matching the one we have bought in La Menara....... and we are delighted to make it available for the use of others.
VERA NATURA NATURIST APARTMENT
SPAIN NATURIST APARTMENT
VERA NATURA APARTMENT
VERA PLAYA APARTMENT
NATURIST APARTMENT RENTAL VERA PLAYA
NATURIST SPAIN
LA MENARA APARTMENT TO LET
VERA PLAYA NATURIST RENTAL
APARTMENT RENTAL NATURIST
SELF CATERING NATURIST APARTMENT SPAIN
NATURIST APARTMENT LA MENARA
SELF CATERING NATURIST ACCOMMODATION
NATURIST APARTMENT SPAIN