HIGH QUALITY VERA PLAYA NATURIST APARTMENT AVAILABLE FOR RENT
Are you looking for a naturist holiday in Spain? We are delighted to offer for rent this high quality naturist apartment in beautiful La Menara, part of the Vera Playa naturist area. The apartment has been modernised with dining furniture, patio furniture, kitchen equipment, 32inch television, DVD player and free WiFi. The apartment has two good sized bedrooms, a large bathroom and spacious living area. The total area is 72 square metres plus two terraces. The La Menara complex is naturist with beautiful gardens and swimming pool. La Menara is one of six naturist complexes that form the Vera Playa naturist area in Spain. Just a two minute walk from the apartment (and yes, the walk is through the naturist area) is a beautiful beach. For rentals longer than 3 weeks drop us a line for a special quotation.
For all enquiries please write to: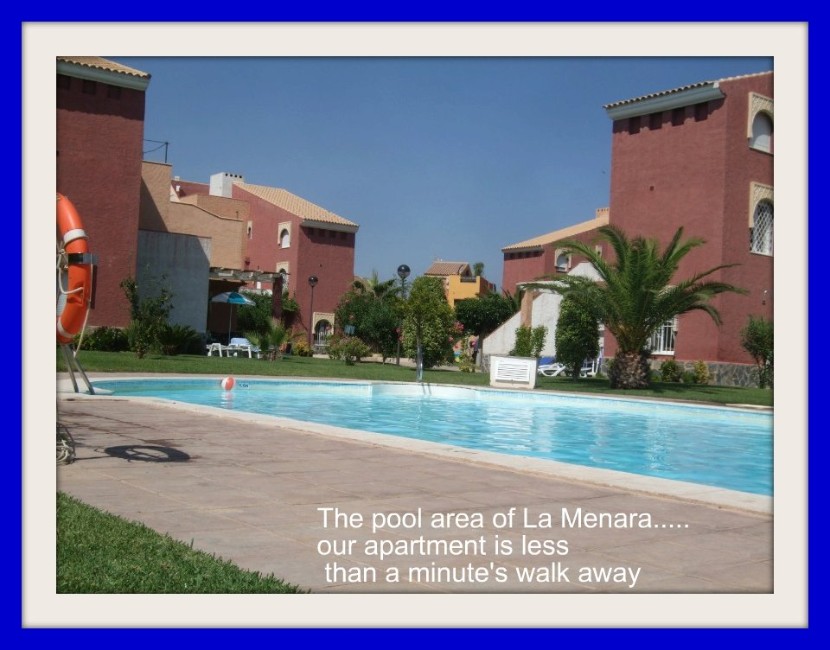 DON'T JUST TAKE OUR WORD !!
SEE WHAT OUR CUSTOMERS SAY


"Location! Location! Location! This particular apartment is such a short walk to the popular naturist section of the beach, that like me you may feel guilty for not going back and forth several times a day. Right across the street is a naturist-friendly restaurant and pub called Ooh La La. The apartment is simply perfect, with great air conditioning and a fully equipped kitchen. A large supermarket is a less than 10-minute walk away. Nothing lacking here for a wonderful naturist holiday!
Robert from Canada
August 2023"
Thoroughly enjoyed your apartment. It had everything you need.The layout being on one floor was just great with two terraces. It's well situated for all amenities and just a short walk to the beach. The gardens are beautifully kept and it's a short walk to the pool. Look forward to doing back.
GF West Lothian July 2023
This was one of numerous stays in La Menara but the first at Andy and Patti's apartment. We love the ambiance of La Menara and enjoy the pool there. The location is excellent for a clothes-free stay, right in the centre of Vera Playa's naturist zone and close to naturist friendly bars, restaurants and of course, the playa! The apartment is very comfortable, spacious and has everything you need, including a washing machine (not that there are many clothes needing to be washed!), a TV and air-con. Hope to be back again soon.
Peter and Lois, Oxford June 2023
This was my first time staying in La Menara and certainly won't be the last!! The apartment is excellent with all the facilities that are needed for your holiday. The gated complex is beautiful with a great pool and beautiful gardens. It is in the perfect place within the naturist zone so your clothes are not required from the moment you arrive to when you leave. The beach is a 2 minute walk away and with a variety of bars, restaurants and a supermarket close by, it is the perfect place if you are visiting Vera Playa for the first time or a returning visitor. My thanks to Andy and Patti for their hospitality and great communication during my stay and I look forward to returning to their apartment soon.
DS from Belfast May 2022
It was my first time at your apartment in La Menara it is an excellent apartment with all the amenities anyone could want. The apartment is very well maintained and spotless. It is surrounded by beautiful gardens which is in a gated area. I will be returning again hopefully next year
Thank you for a lovely holiday Regards Richard From Bournemouth July 2019
We had an excellent week in mid-May in Vera Playa staying at Andy and Patti's apartment in La Menara.
The whole week was very relaxing and exactly what we were looking for.
The apartment itself is fantastic, extremely well kitted out and very comfortable, we made a lot of use of the rear terrace when we were not down on the beach. La Menara itself is a lovely urbanisation with its own pool (though we didn't use it this time), and well kept grounds. The apartments were undergoing some external painting which makes them look very fresh and vibrant.
We ate out a few times at Oh La La! ( just across the road), and La Bar Reva, which is only a short walk (which for the hungry we would recommend the mixed grill for 2). We also enjoyed lunch a couple of times at Chiringuito Cota Zero (Pirates) on the beach and again I would recommend their salads. Other times, we ate in the apartment utilising the facilities and the local supermarket.
Overall, the atmosphere was very relaxed during our stay, and we had a great time, and would certainly recommend you stay in La Menara in Andy and Patti's apartment.
We are hoping to return next year.
D&D from Middlesex May 2019
La Menara is a magical naturist complex, where you can step off the world and relax in beautiful gardens with a lovely pool. Andy and Patti's 2 bedroomed apartment has 2 balconies and a fully equipped kitchen and bathroom with a large indoor dining area/living room. (Although we never use these as it's al fresco all the way). The beach is a 5 minute walk away and there are plenty of bars/restaurants within walking distance. The Pirate and Oh La La bar are naturist.
We have just spent our sixth year here and have booked our 7th for 2019.
Book this apartment with confidence!
Mike and Jo from Leicester June 2018
La Menara is one of the dozen or so naturist developments in Vera Playa where you'll find this super apartment. Freshly and brightly decorated with two good sized, double bedrooms, well-appointed bathroom and large kitchen/dining/living room with all the right equipment. There's English language telly as well as free wi-fi to keep you in touch with home. It has two large patios for sprawling out in the sun but don't back up against the potted cacti! The pool is just a short stroll away through delightfully sculpted gardens. You'll be less than a hundred yards from the front gate with your dedicated parking space and a similar distance the other way to the pedestrian gate opening on to Avenida Ciudad de Castellon and a gentle stroll to the huge free beach. As a change from home-cooking, there are a number of bars and restaurants within a stone's throw and, while you do need to dress to walk through to the Consum supermarket, there's a couple of convenience stores nearby where nekkid is normal.
In short, we like it...A LOT!
Allan and Maggie from Bognor Regis 2018
I wanted to tell you how impressed we are with your lovely apartment. It is so spacious and comfortable. The bed is extremely comfy, so nice to have a king size bed. Having 2 terraces is a bonus. I am also impressed with the art work.
Leslie UK 2017
As in previous years we have spent another perfect holiday in you apartment.
March is often a bracing time of year in Vera Playa with a cold wind and sometimes shy sun. The apartment's two terraces between them often provided a windbreak and on better days trapped the sun into the evening and provided a vantage point to survey the surrounding gardens as well as the groundsmen at work pruning the high palm trees. Inside it's difficult to think of anything lacking in terms of comfort, equipment and decor, which was enhanced by Patti's sometimes fruity artwork. Mine was a solo stay and the apartment provided a base for quiet reading and contemplation, beach, supermarket and visits further afield - and there were flamingos on the lake over the bank opposite the supermaket.
John UK April 2018
We have just returned from a relaxing stay at Andy and Patti's La Menara apartment.
The apartment is delightfully maintained and decorated, is comprehensively equipped and has all you need for your vacation. The grounds of the La Menara complex are beautifully maintained with a variety of trees, shrubs and flowers complemented by the pool with tree shaded areas.
Meet and greet arrangements by their agent Tony was very easy and he has knowledge of the area if you should need it.
The apartment is located close to the beach with a large supermarket and several bars / restaurants within easy walking distance.
It's so good we have booked for next year.
T and J Midlands July 2018
Our stay at Andy &Patti's apartment on LaMenara was very good the apartment itself is well equipped
and comfortable. La Menara is very well maintained and clean and the pool is very good.
Very convenient for the beach, shops, restaurants and bars
Ken and Lea Suffolk June 2018
"....Well we have just returned from our main holiday at this very high standard apartment within the La Menara gated naturist complex at Vera Playa. This exceptional spacious apartment, facilities & lovely well maintained decor, has everything you need to make it a really comfortable, memorable stay.
This was the 2nd consecutive year we have stayed in the apartment & are more than happy to recommend to anyone who is interested in a naturist sunshine break, so much so that we have already re-booked again for next year.
David & Jools, Leeds Sept 2018...."
LATEST NEWS
Corona virus
Sadly none of our customers were able to visit La Menara in 2020 because of the pandemic. ALL OUR CUSTOMERS WERE OFFERED REFUNDS. Most clients opted without prompting to move their booking to 2021.
In 2016 owners of rental properties in Spain were required to register with the authorities and show that they met certain standards. Our property is registered and complies with the licensing authorities. Our registration number is:
VFT/AL/00121
Our TV has over fifty channels
We now have a smart speaker.. just ask what the time is? what's the weather? and hundreds more questions plus UK radio stations.
Our apartment has a King Sized bed and a Double Bed
Free internet access (wifi) if you bring a laptop, tablet or mobile. This is independent of the community wifi system ensuring better and more reliable access.
Our sound system has several thousand music tracks you can play.
Air Conditioning in both bedrooms and lounge
Original and attractive oil paintings in every room
Why we bought here.
In the last thirty years we have visited naturist places all around the world.... including France, Spain, Croatia, Holland, New Zealand, Mexico, Britain, USA and Australia. We decided that we wanted our own place and Vera in Spain seemed to be the natural choice. It's warmer than Southern France throughout the year (even in December the average daily maximum is 17c) and is only a few hours from the UK by air. On visiting Vera for the first time we were shown around the various complexes and looked at many apartments. None came close to matching the one we have bought in La Menara....... and we are delighted to make it available for the use of others.
VERA NATURA NATURIST APARTMENT
SPAIN NATURIST APARTMENT
VERA NATURA APARTMENT
VERA PLAYA APARTMENT
NATURIST APARTMENT RENTAL VERA PLAYA
NATURIST SPAIN
LA MENARA APARTMENT TO LET
VERA PLAYA NATURIST RENTAL
APARTMENT RENTAL NATURIST
SELF CATERING NATURIST APARTMENT SPAIN
NATURIST APARTMENT LA MENARA
SELF CATERING NATURIST ACCOMMODATION
NATURIST APARTMENT SPAIN