LA MENARA ..... THE COMPLEX
La Menara is one of the six naturist complexes that make up Vera Playa and is in the heart of the naturist zone. In our opinion it's the most attractive and well maintained. It's also a nice size and has a small village feel about it. The swimming pool is the focal point with beautiful lawns and enough sun loungers for all!!! If you like to socialise on holiday, La Menara is brilliant. There's always someone to share a bottle or three with. It's also a good mix of nationalities with Dutch, Spanish and British being the main nationalities but others are represented. But if you prefer to chill out on your own that's easy as well.
Just across the road is Oh La La a naturist friendly bar and restaurant that is just perfect for watching the sun go down.
There is a boules surface near the pool and a table tennis available to all. Also next to the pool is a library with nearly a thousand books ... mostly English.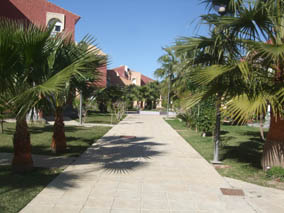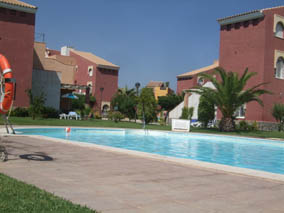 The naturist beach (Playa el Playazo) was established by a decree in 1989. It is about 2.5 kms in length.
The beach is cleaned regularly and though it can be busy in August at the main entry points just walk 200 metres and it becomes much quieter.